Best Horse Stencil Patterns and Stenciling Ideas
What kind of horse stencil you need depends on what style of decor or decoration you plan to use your stencils on. For a large painted wall decoration, these horse silhouettes can be downloaded and enlarged. If they are to be used as iron work shadows, you might want to take them to your local print shop to make your printable stencils big enough to be used as a pattern.



Visitors That Stopped by to Find a Stencil of a Horse Also Enjoyed these Pages:

Rocking Horse Plans

Horse Wall Decals

Horse Baby Bedding

Some of the visitors to our site have used these free horse silhouette patterns on square pillows made of soft leather. For this project they used buck skin color leather and a darker stain. One idea that came to me when I saw the pictures of their unique crafts was how cool it would look to stencil a border of barbed wire graphics around the edges of the cushion to frame the horses.





Here are some ideas for various styles of western stencils that you could use to create an entire cowboy wall mural:
Horseshoes
Indian Designs
Tee Pees
Cactus plants
Cowboy Hats
Cowboy boots
Cow skulls
If you are creative with an overhead projector, it would be very easy even for a beginner to decorate a nursery wall mural using these free, printable stencils of a horse in a few hours.
For those who prefer more whimsical designs, there are other stencils of a horse that will work well in many popular nursery themes.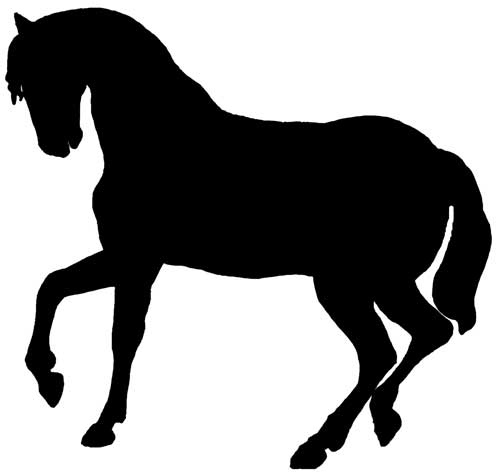 If western, cowboy themes with bucking horses isn't your taste, these carousel horse stencil patterns would be perfect for a circus theme baby nursery.



See More Here
Your horse stencil can be used to:
Paint a border of galloping horses around the walls
Create a silhouette to matt and frame
Stencil a pattern on decorative pillows for the room
Make a pattern for iron garden decorations
Spray paint a personalized welcome mat
Quickly place a horse in a place of honor in your western wall mural

See More Here
These are just a few ways to use your horse stencil drawings in your baby nursery decorating ideas , scrapbooking and crafts projects! I'm sure that you will be able to think of many more creative ideas and uses for these horse images and graphics.