Baby Nursery Ideas, Room Themes and Unique Baby Gear Ideas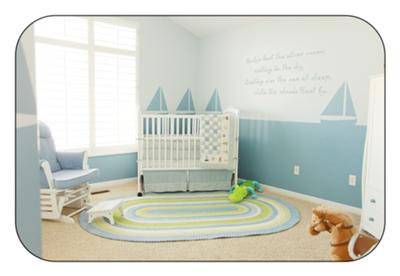 Welcome to Unique Baby Gear Ideas where you will find many baby nursery decorating ideas and nursery themes shared by talented moms who visit our website as well as the latest in bedding and decor.
| | |
| --- | --- |
| | BABY GIRL NURSERY IDEAS & PICTURES |
| | | |
| --- | --- | --- |
| | | IDEAS for a BABY BOY NURSERY with PICTURES |
| | |
| --- | --- |
| | GENDER NEUTRAL NURSERY IDEAS & PICTURES |
Planning and decorating a baby nursery, organizing nursery ideas, choosing the best nursery themes and finding safe baby gear takes time and preparation. This website will help you to decorate a nursery for a baby boy, a baby girl or twins by providing pictures of real nurseries and cute nursery ideas shared by moms who will amaze you with colorful rooms that were decorated on a limited budget.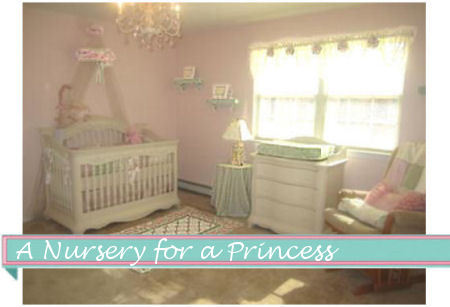 Pink and White Princess Nursery
The decorated nurseries for babies in our gallery have many fashionable items that you can buy and use in your nursery with tips on where to find the products for a very cheap price. But before you go shopping in stores or online, check out the displays of sentimental, recycled and upcycled furniture and decorations to see how other moms decorated a nursery for baby without spending a ton of money.


Another "must see" would be our moms' nursery paint ideas. See how to decorate the nursery walls with stickers and decals and prepare to be amazed at modern concepts of popular nursery themes for baby boys and girls.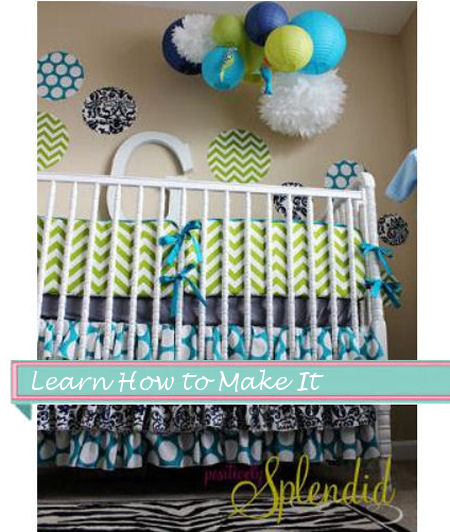 Polka Dots Nursery Wall Decorations and Ruffled Crib Skirt
And to assist moms in finding the most modern in nursery products and equipment, we provide baby gear reviews of the latest items on your nursery checklist.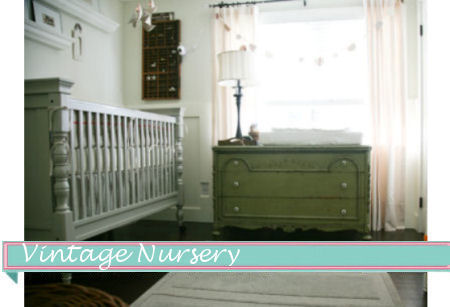 Vintage Baby Nursery
Our nursery picture gallery is filled with ideas for decorating the baby's nursery but that's not all! We also have many free baby patterns with instructions for easy, DO IT YOURSELF projects. Many of the craft and paint techniques have step by step instructions that you can adapt to your unique circumstances. Change the color, adjust the size of the project and you have an original piece with bragging rights!
Table of Contents

Baby Nursery Pictures - Pictures of decorated nurseries for baby girls, baby boys and gender neutral nurseries for either.

Baby Nursery Ideas Blog - The Baby Nursery Ideas Blog keeps you up-to-date with what's new on Unique Baby Gear Ideas. Please like Unique Baby Nursery Decorating Ideas on Facebook!

Nursery Themes - The most popular nursery themes for baby boys and girls.

Baby Nursery Bedding - Crib bedding, sheets and blankets.

Nursery Window Treatments - Curtains, valances and blinds to make yourself from free online patterns.

Boy Baby Bedding - Nursery bedding for boys in sports themes and more.

Girl Baby Bedding - Feminine nursery bedding for baby girls.

Nursery Wall - Nursery wall decorations, painting and decorating ideas.

Wall Stickers - Decals for baby's nursery.

Nursery Colors - The most popular paint colors and color schemes for a baby's nursery.

Free Stencils - Alphabet letters, baby wall stencil patterns and templates.

Nursery Furniture - Sets of furniture for baby's room.

Baby Cribs - Top rated cribs, instructions and replacement parts.

Nursery Rocking Chair - Rockers, gliders and ottomans for the baby's room.

Nursery Rugs - Area rugs for the baby's room.

Baby Nursery Decor - Information on nursery decorating styles.

Nursery Lighting - Ceiling lights, floor and table lamps for baby's room.

Baby Shower Ideas - Ideas and tips for how to throw a stylish and fun baby shower.

Baby Shower Invitations - Announcements, cards and wording for invites to your party.

Baby Shower Themes - Baby boy and girl shower themes with menu, food and decorating ideas.

Baby Shower Favors - Cheap baby shower favors to buy or that you can make yourself.

Unique Baby Shower Gifts - Gifts for baby girls and boys that you can make yourself.

Baby Patterns - Free sewing, knitting and baby crochet patterns.

Baby Shower Games - Fun baby shower games for couples showers and more!

Free Baby Stuff - Current giveaways and contests where moms can win prizes.

Baby Gear - Nursery items and equipment that are on every new mother's list of necessities for baby's first year.

Diaper Bags - Stylish, designer baby bags and totes that are as beautiful as any handbag or purse.


On our site, parents have shared their experiences and advice on decorating a baby nursery that may save you lots of time and money. Plus, they got a chance to win some cash prizes for your nursery decorating ideas in our ongoing baby nursery photo contest.
And when you're finished decorating a nursery for baby, please drop by and share your own nursery decorating ideas.
WHAT ELSE?
Nursery ideas and decor is just part of what will be of interest to the mother-to-be. We have baby shower themes and ideas for cute invitations and decorating ideas for the hostess with gift ideas. If you are into crafts, check out our free baby patterns that you can use to make personalized baby gifts or share them with a loving grandmother who would love to make some homemade baby items.
BABY NURSERY FURNITURE and GEAR
We host reviews with giveaways where moms get a chance to win free baby stuff and sample the latest products on the market as well as shopping resources for nursery necessities like baby car seats, baby cribs, slings and the latest designer diaper bags.
YOUR CONTRIBUTION
What makes our tips for decorating baby nurseries so unique is that they are real nursery ideas that have been shared by real moms! Our visitors are so cool about offering assistance to parents looking for hardware for their nursery furniture, replacements for the crib parts that got lost in a last minute move and missing crib manuals as they are about sharing opinions on the best nursery colors for baby boys or girls. Their eye for color and style is exceeded only by their compassion and care for other moms and their newborns.
The nursery ideas and pictures of real nurseries are just part of what makes this such a great place for new moms to gather, visit and share their dreams. The energy and spirit of community are what completes the package and never ceases to amaze me.