Western Cowboy Baby Nursery Theme Decorating Ideas and Decor
Some of my clients choose a cowboy baby nursery theme with the idea of sharing of fond memories sitting around the campfire under a sky filled with stars with a parents or a grandparent with their own child. And then there are others that want western nursery decor that have never been on a horse much less had the privilege of visiting a working ranch and may not have a clue as to what might be ideal decorations to design a baby's room reflecting the cowboy's way of life. My answer is not to worry, help is on its way in the form of cowboy nursery decorations and art.



Visitors Who Like This Page Also Enjoyed these Pages:

COWBOY NURSERY DECOR
Of all the many ways to bring the atmosphere of the Wild Wild West into your baby's room, the one with the largest footprint is the crib bedding set. Not that this decorating rule is etched in stone, but you can sure save yourself a peck of trouble by makin up your mind which set of cowboy nursery bedding works for you before buying your decorations. This is the time to make the decision whether modern or vintage cowboy decor is your taste.
SEE MORE HERE
There are some western themed crib sets that are gender neutral that will work just as well for a little cowpoke as a cowgirl. These sets are what make a cowboy baby nursery an exception nursery theme for twins.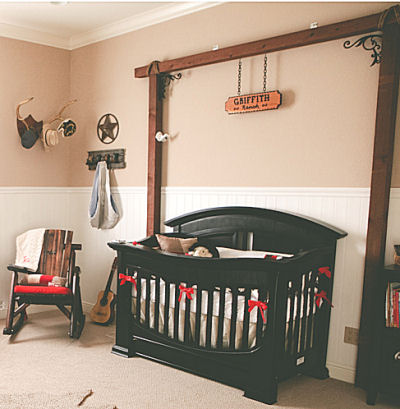 Western Cowboy Baby Nursery Theme
A copy of the ranch gate from the old homeplace is a dramatic canopy for the baby's crib.
Save money with a (baby-safe, of course) homemade crib made of rough pine logs.
NURSERY DECORATIONS
Vintage cowboy posters, horseshoe drawer pulls, wallhangings and other Cowboy and Indian accessories can quickly transform any room into a scene right out of a Spaghetti Western.
Rustic, wooden picture frames and artwork made of rope and barn board will work with any color scheme in a little Texan's nursery with a "Lone Star State" theme.
A soft, neutral shade of green is the perfect complement for the rough wood of the wall decorations.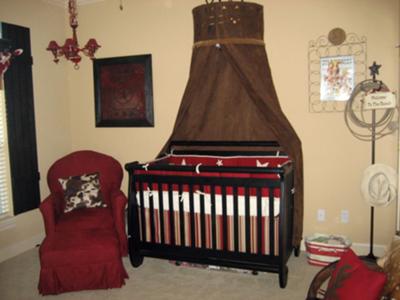 Western Cowboy Nursery with Stars and Stripes Baby Bedding and Crib Canopy
The fabric of the baby bedding set and crib canopy feature a masculine chocolate brown and red color scheme played out in stars and stripes.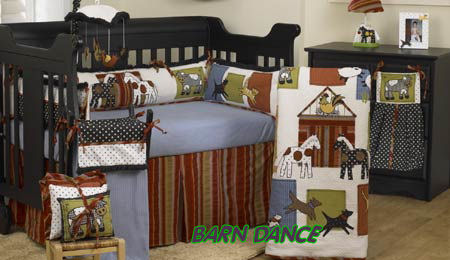 Western Horse Baby Bedding
COWBOY BABY NURSERY CURTAINS and WINDOW TREATMENTS
A homemade bandana valance is a really cute (and cheap) way to decorate the windows. Pink bandanas would work for little cowgirl and as far as a little cowboys window treatments are concerned, the world is your oyster! Colors from bright yellow to classic navy blue or red would be grand so long as they complement your western cowboy baby bedding set. You might combine two or more colors or play with combinations to find the best one for your color scheme.
Simple black iron rods and hardware will do but there are cute cowboy boot and hat curtain finials that will dress up a plain wooden rod to perfection.
COWBOY LAMPS AND LIGHTS
The most authentic cowboy boot lamp that I ever saw was a pair of real leather baby cowboy boots mounted on a wooden platform that had been wired and topped off with a lampshade. But you don't have to take that route as there are plenty of cowboy lamps and light fixtures in the home decorating stores.
If you already have a lamp and ceiling light fixture or chandelier in place, you can bring them in line with your cowboy baby nursery theme with some stenciling, decals or you might play around with some baby cowboy boots and hats to see how they look decorating the shades of your chandelier.
COWBOY NURSERY DECORATIONS
Drag out that vintage leather saddle, some old spurs or a colorful horse blanket and old cowboy pictures and movie posters to decorate the nursery walls. A lasso draped over the top of an armoire or across a cornice board (out of your little baby Buckaroo's reach of course) will give your baby's room a rustic and authentic look. This is the fun part of decorating a cowboy nursery because these decorations are what set your nursery design apart from all others.


COWBOY NURSERY FURNITURE
Take a plain old baby dresser and dress it up with some tin star pulls or you might even make your own out of horseshoes! So what if your wooden furniture is distressed or beat up; that's the authentic bunkhouse look we're shooting for.
Here are some more tips to put you on your way towards decorating your cowboy baby nursery theme.
Old cowboy movie posters,leather cowboy boots, cowboy hats
Colorful woven horse blankets or cowboy theme baby quilts to use as accent pieces for your cowboy baby nursery bedding, wall hangings or for custom window treatments
I hope that you found something that you can use in our baby cowboy nursery theme and when you're done decorating your little cowpoke's room, I hope that you'll mosey on back to keep up with the latest in baby nursery ideas and that you will share some of the pictures of your own little cowpoke's room.