Cheap, Cute Pink and Brown Nursery Rug Selections for Girls
The custom pink and brown nursery rug that we see in this baby girl's room makes all the difference! The monogram in the center of the area rug personalizes the space and matches the soft, pink wall paint color beautifully.



Pink and Brown Baby Nursery Ideas

Pink and Brown Baby Shower Invitations and Decorations

Pink and Brown Nursery Decorating Ideas




Choosing the Best Pink and Brown Nursery Rug
The paint color for the walls as well as the color of the nursery rug is most often determined by the colors found in the baby's crib set.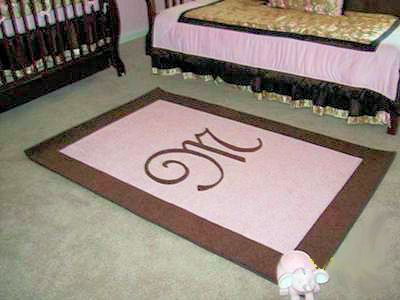 SEE MORE HERE
Manufacturers usually produce rugs in shades that are reflected in baby bedding sets seen in the stores at any given time but if you are unable to make a perfect match, consider having the rug dyed to match.
Personalized, Monogrammed Rugs
To personalize your baby girl's brown and pink nursery rug, you might stencil her initials in the center of the rug or have her monogram embroidered by a professional.
Are solid color pink and brown area rugs best or should I shop for one with patterns?
That depends on prints and patterns that are already in place and whether or not you plan to use the rug through several makeovers of the room.
You would most likely get more use out of a large area rug that has a solid pink or brown center with a contrasting solid color border. Since there are so many cute toddler girl and even teen girl bedroom themes to pick from in this color scheme, you could easily get years of use out of a pink and brown area rug.
To bring patterns into the area, consider buying a small throw rug to place in front of the baby's bed that you won't mind getting rid of when it's time to change the nursery's theme.
Please visit our home page where you will find lots of baby nursery ideas that will help you to decide which pink and brown nursery rug is best for your decorating project.