Cute and Classic Winnie The Pooh Baby Shower Ideas for Girls and Boys
We have some cute and classic ideas for a Winnie the Pooh baby shower theme for girls and boys as well as lovely cakes, gifts and decorating recommendations for hostesses planning a party. We have time and money-saving tips for the hostess who has little time to gather Winnie the Pooh birthday party supplies and decorate the venue for a baby shower much less make a cake. Searching for plates, tableware and decorations in cute color schemes in this classic theme, whether the atmosphere is modern or vintage, has never been easier.


Not so very long ago, primary colors were the only colors available for a classic Winnie the Pooh baby shower. Hostesses knew that they would be decorating with the bright red and the orange yellow color seen in the book illustrations. These colors are still the choice of many, but today there are supplies featuring lovely pastel colors as well as the traditional bold colors providing options for showers for baby girls or neutral showers where muted shades are preferred.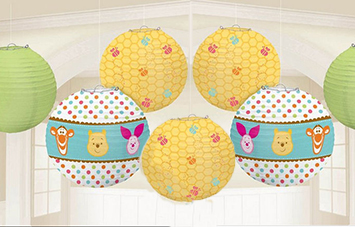 Go here to see more
inexpensive Winnie the Pooh decorations, invitations and decorating ideas for your celebration.


For the gender neutral shower, there are centerpieces, banners and hanging mobiles in unisex colors of peach, mint green, butter yellow and lavender. Many of the kits have just a touch of pink and blue so that if you know the sex of the baby you can light up the room with lots of pink for baby girls and blue for baby boys.


Kits
Winnie the Pooh party supplies can be bought separately or in a complete party kit. If you are hosting a small celebration for a few close friends, some plates and cups might be all that you need. However, if you want to decorate the entry door, the gift table and the walls as well as the serving tables you will save money by getting a complete kit for one price that includes everything you will need from the Winnie the Pooh party invitations to the thank you notes.
Decorations
Of course a multi-tier Winnie the Pooh diaper cake will be the centerpiece that draws the most attention. You can make your own diaper cake or purchase one ready made from an online baby boutique. Scatter items and products with pictures of Pooh around the room that repeat the theme as well as hanging streamers and mobiles in your colors from the ceilings and walls.
Baby Shower Favors
Small stuffed toys make excellent individual table centerpieces as well as cute baby shower favors. A variety of Pooh plush toys on each guest table will liven things up. Everyone has their own favorite Winnie the Pooh storybook character ranging from Tigger, Piglet to Eeyore (and don't forget the hunny pot motifs) so let your guests know that they are free to trade toys with their neighbors if they wish.
Enjoy your baby shower in the 100 Acre Wood and don't forget to share your pictures and baby shower decorating and gift ideas with us!
Return to Unique Baby Gear Ideas for everything that a baby could ever need.