Vintage Patchwork Pillows for an Old Nursery Rocking Chair
by Jan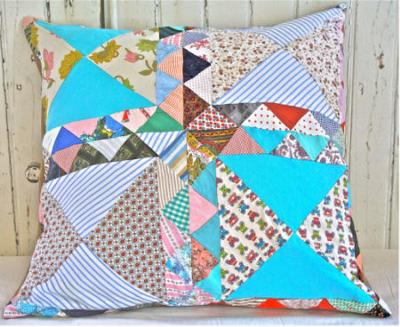 Vintage heirloom patchwork quilt pillows are perfect for a nursery rocking chair in an old-fashioned baby nursery.
Using one of these lovely vintage patchwork pillows for an nursery rocking chair to cushion mom's back for those late night feedings is a super idea. PLUS, they blend beautifully with the decor in the rest of the room where a brand new cushion on the rocking chair cushion would stick out like a sore thumb surrounded by treasured family heirlooms and antiques.

Recently, I was put in the position of having to find a suitable rocking chair cushion for an old-fashioned, rustic nursery. Just when I was about to finish up the project last fall, the mother-to-be, as she was doing a final walk-through, announced that the only thing lacking was a quilted pillow to make her heirloom rocker more comfortable.
Of course I said I would take care of it, failing to realize how difficult fulfilling this promise was going to be. What I didn't know was that most people who have precious antique quilts in their possession want them in one piece, not cut up into pillow covers!
If only I had found
Vintage is For Lovers
sooner I could have saved myself time and the anxiety of worrying that I wasn't going to be able to honor my customer's request not to mention spending hours visiting one Flea Market and antique store after the other looking for a suitable vintage style pillow.
I was lucky enough to find one cutter quilt at an estate auction that went for a (laughing like a crazy woman here) reduced price because most of the quilt's blocks were in very poor condition.
Next time I will know to check Samantha's inventory of beautiful quilted pillow covers when I need a few vintage patchwork pillows for an old nursery rocking chair and save myself all this trouble and money!
Her cushions are made from quilts in original condition that have the perfect amount of wear (read: character). And speaking of character, her company respects the quilts in their original condition plus 5% of every sale goes to support a local art center, The Tailor's Art,that provides art classes for low income kids.
Each of these vintage heirloom quilt pillows is lined with 100% organic muslin and backed with 55% hemp and 45% organic cotton fabric. There is no need for concerned parents to worry about bringing unwanted chemicals into the room when decorating a
nursery for baby
.
Parents that are decorating a country, log cabin style or
vintage nursery
for baby should visit her
Etsy store
to see more of her quilted pillows.
When you visit her blog,
Vintage is for Lovers
you will see that in addition to accessories for vintage nursery decor, reading Samantha's posts will bring a few moments of peace and love into your day and you will leave with the sense of having been sent on your way with a warm, virtual hug.