ColorfulThree Little Pigs Illustration
The Three Little Pigs illustration in Andy's king of the pond nursery design has very little to do with frogs or the inhabitants of a pond but it works. Speaking for myself, those little dancing pigs make me smile and wonder how they could be so happy with the big bad wolf so close to their door.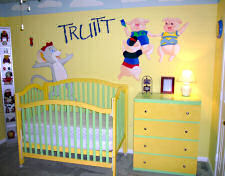 Andy chose a spot over the baby's bed to put a personalized touch on the baby's room. Truitt's name painted in whimsical letters is displayed on the wall very near the frolicking piglets. With such interesting companions so nearby, this baby will love to spend time in his crib. Return to Unique Baby Gear, Bedding Themes and Nursery Decorating Ideas to see examples of Mother Goose Nursery rhymes baby bedding and decor and three little pigs illustrations.