Majestic Lion King Baby Nursery Room Ideas, Crib Bedding and Decor
Our Lion King baby nursery ideas is an excellent choice for a baby boy's nursery theme. Most of the Lion King baby bedding sets feature neutral colors and wild animal prints which are by nature unisex. But there are a few Simba crib sets that are feminine enough for use in a baby girl's room.


Lion King decals make decorating the walls of this nursery theme both easy and inexpensive. Put your favorite characters or quotes from the Lion King on display over your child's bed or use wall paper to create a mural as a focal point or accent wall.
Shelves will allow lifelong fans of the story who may have toys or keepsakes kept from their own childhood to use them as decorations for the baby's room.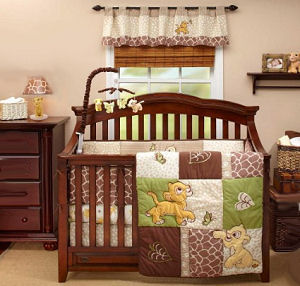 Go Here to See More
Lion King baby bedding sets often include shades of green as a background for Simba and Nala as well as motifs found in crib sets chosen for the generic
jungle nursery theme
like tropical flowers, leaves and paw prints that we can assume were made by Simba and Nala while chasing butterflies.
The fitted crib sheets, the crib skirt or the quilt might be made from wild animal print fabrics depending on the overall color scheme of the collection.
Giraffe as well as leopard and cheetah prints find a place in the bedding as well as lamp shades and other nursery decorations.


Many parents prefer to mix and match window treatments, sheeets and bedding to avoid a "match-y" look and to incorporate items that will grow with their babies and last through the toddler years. If that's your goal, animal prints are the way to go.


A crib mobile with Simba and Pumba is a must-have item for every Lion King baby nursery.
Please make plans to visit us again soon to see more Lion King baby nursery ideas and tips for decorating the nursery for your baby boy or girl.