OvaCue Fertility Monitor Review and Giveaway
by Jan
Read our review to learn why we believe that Ovacue Fertility Monitors are the best and the most convenient monitors around!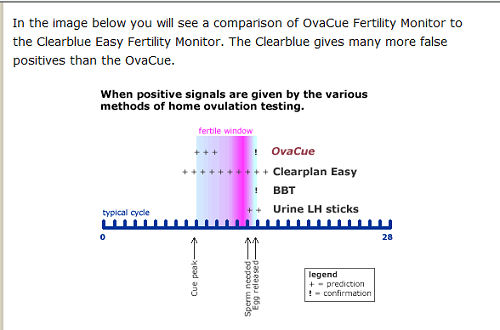 The following Ovacue Fertility Monitor review and giveaway will be of interest to anyone is trying to get pregnant for the first time or those of you who are veterans and have found the results of fertility test sticks either lacking or kind of MESSY! It's a fact that we'll do whatever it takes to increase the odds of getting pregnant, but if there's a better, more accurate method of determining the best time to get pregnant that doesn't involve dealing with urine (read: pee) well, who wouldn't be for that?
How does the digital OvaCue Fertility Monitor work?
Unlike fertility strips or sticks, OvaCue measures the changing electrolyte levels in your saliva that are affected by estrogen. All you have to do is place the sensor on your tongue for 5 seconds and the monitor will record your fertility on any given day. When the system is accurate wouldn't you rather deal with saliva than urine? Frankly, I would rather test my saliva, wouldn't you? And if you want further confirmation, you can also add the vaginal sensor. The fact that OvaCue is the only monitor that gives results based on saliva rather than urine practically guarantees it a high rating but how accurate is a saliva test?
Is a saliva test as accurate as a urine test in determining fertility?
The OvaCue's accuracy in timing ovulation using saliva is over 98% accurate and it's FDA approved.
How does the OvaCue compare to other ovulation prediction tools?
I could write a very wordy OvaCue Fertility Monitor review filled with pros and cons but there's no point since you can read detailed http://www.fairhavenhealth.com/ovacue-comparison.html comparisons of the Ovacue Fertility Monitor to other methods on the official website. While you're there you can also read more consumer reviews and watch video reviews. Here's a graph that illustrates the benefits of this system versus its competitors:

Isn't this monitor more expensive than others?
Actually, when you add the cost of replacement test sticks for other monitors, the price difference isn't that big of a deal especially considering urine based monitors are less accurate. When you're trying your best to get pregnant, a chick needs all the accuracy she can get and the resale value of the monitor when you're done further reduces your investment.
Advantages of the OvaCue are that you never have to pee on another stick PLUS
you get the reading FAST in just 5 seconds
you get FREE, unlimited access to ova graph.com where you can chart and store your readings
Attractive features of the OvaCue are
the full screen monitor that displays your readings in three languages in COLOR!

that you can use the calendar display mode to track your cycle daily

the recommendations for its use by respected fertility specialists and the confidence of its FDA approval.

I hope that you have found the opinions shared in my Ovacue Fertility Monitor Review and Giveaway helpful in making a decision. If you need more details, you can find much, much more technical information on the http://www.fairhavenhealth.com Fairhaven Health website as well as many products for fertility and pregnancy support and I highly recommend that you drop by and take a look.
Now, for the giveaway part of the Ovacue Fertility Monitor Review and Giveaway!
Thanks to the generosity of Fairhaven Health, one lucky mother-to-be who enters this contest will win her very own Ovacue Fertility Monitor WITH Vaginal Sensor as a prize! It does my heart good to know there will be one less lady pee-ing on a stick in the very near future!
Here's how to enter:
Mandatory OvaCue Fertility Monitor Giveaway Entry
(This step must be completed before any extra entries to OvaCue promotion will be counted.)
Drop by
OvaCue Fertility Monitor
's website , and check out their product line then return to leave a comment indicating which of their products that you would like to try.
THEN,
"like"
Fertilaid
AND
Unique Baby Nursery Decorating Ideas
on FB and leave a post BOTH walls! Leave your username in your comment/entry or it WILL NOT COUNT.
BONUS ENTRIES for the OvaCue Review and Giveaway - LEAVE URLS AND COMMENTS FOR EACH ENTRY
1. Visit my
Baby Gear Reviews
channel on Youtube and become a subscriber OR leave a comment on your favorite and return to tell us for
10 bonus entries
2. Become a Twitter follower of
msbaby
on Twitter and tweet: Check out the FREE OvaCue Fertility Monitor giveaway hosted by @msbaby – Enter to win here: https://www.unique-baby-gear-ideas.com/free-baby-stuff.html shorten url if necessary and leave a comment. Tweet the Fertility monitor giveaway DAILY and leave a comment each time.
3. Enter an additional contest for a chance to win some FREE Baby Stuff like baby carriers, etc.! (1 entry for each contest you enter)
4.
FOR 5 EXTRA ENTRIES
– Blog about the OvaCue review and giveaway linking to this page and provide a link to your post. (You should post FIVE separate comments for this!)
5.
For 10 BONUS ENTRIES
Visit the gallery of pictures entered in the
BABY NURSERY PICTURES CONTEST
and
vote for your favorite in the comments section
then tell me where I can find your vote for 10 additional entries and be sure to tell the moms which of their
baby nursery ideas
you like best!
6. Add our button to the sidebar of your blog or website (if it's already there, let me know (it won't count if it's on a page where nobody will see it) and post the link to your blog in your comment (2 separate entries) using THIS CODE:
https://www.unique-baby-gear-ideas.com/images/ubgibutton.jpg
7. Post a link to
Baby Nursery Ideas
to your blogroll (using my URL), with a link back!
(10 entries)
8. Add
Unique Baby Shower Ideas
blog to your blogroll (using the provided URL), with a link back to me!
(10 entries)
9. Become a follower of
Unique Baby Shower Ideas
in GFC to get 5 bonus entries
The OvaCue review and giveaway contest will end on August 16, 2011 and is open to residents of the United States only (void where prohibited by law).
The winner of the fertility monitor will be contacted via email and will have 48 hours to confirm before a new winner is chosen.
I would like to say how much I appreciate
OvaCue's
's sponsorship and would like to encourage everyone to consider their excellent products!
There is No Purchase Necessary for entry and I received no compensation for my review. Any opinions that I posted are my own without influence from the company.