Zoey's Dragonfly Baby Nursery
by ann
(nanty glo, pa)
Most of the decorating decisions for my baby girl's dragonfly baby nursery theme were based on a cute wallpaper border that I found online while looking at crib sets. When I saw it, visions of the room that I wanted to create around it were clear as could be in my mind.




The background color of the border is a soft shade that I would call, sage green with a pattern of dragonflies in white and pastel yellow which were colors that I knew that I could easily work with and that would coordinate beautifully with the colors used in the rooms leading to our baby girl's nursery.


Practically every one of the visitors that posts here says that the design of their baby's room was determined by the colors and style of their baby bedding.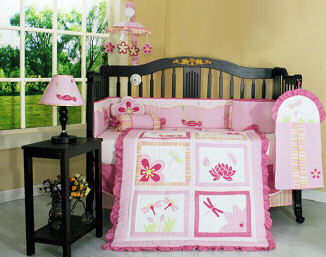 Go here to see some of the
crib sets that I considered other than this one for my daughter's crib.
I knew that I didn't want to go with a totally traditional decorative style for my little girl. When I finally found a crib set that would work with my wallpaper border I knew it was be the perfect one.
I worried that finding items to match my inspiration piece might be difficult but, luckily, I was able to find more than enough decorations offered online. Many items offered by the designer, Jojo, matched perfectly but I didn't go overboard with them because I wanted the room to be my design not someone else's.
Shopping for Furniture and a Crib for Zoey's Nursery
At the time most of the decisions were made, I began to shop around for baby furniture. After considering many different collections in different price ranges and styles, we finally decided to go with a three piece set that we found at Babies R' Us, the Baby Cache Heritage collection. This set seemed to be reasonably priced in comparison to many others that we looked at and we think was the perfect choice for our
baby girl's nursery
.
There were moments in this decorating project when I wished that I had listened to the other parents that posted advice on
Unique Baby Gear Ideas
and bought a crib set first since that was by far the most difficult purchase that we made. Even though we did things the hard way, I think Zoey's room turned out really well and we didn't spend a lot of money to get the look we wanted.