White Heirloom Nursery Decor
by Kim
(Baltimore)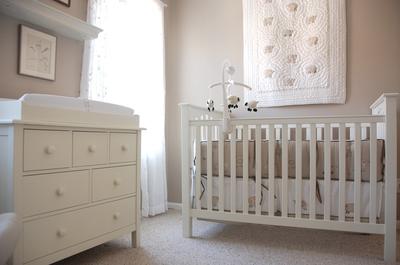 Our baby girl's white heirloom nursery decor includes a Pottery Barn Kids Kendall crib and dresser with clean lines.
Problems experienced while choosing a theme resulted in the all white heirloom nursery decor that I ultimately used in decorating the baby's nursery. I had more difficulty than you might imagine choosing a baby nursery theme as well as a color scheme. I learned that making these choices could be very challenging. Indeed, they were perhaps the most difficult part of the entire project.



For months on end, I visited one decorating website after another in search of nursery ideas with little success.



Here are several examples of white heirloom nursery decor that you will not want to miss!
I simply couldn't get a clear picture in my mind of the nursery that I wanted and was discouraged by the examples that I saw online. At that point, I backtracked and tried to think of what I wanted for our baby. What would I want her to see when she was in her room?
Go here to see more
decorations to add to your family heirlooms that will enhance your nursery decorating project.
What would I want her surroundings to be?
Surprisingly, the answers came easily; love, family, comfort and calm. This led me to the ideas that I used to decorate the nursery.
I was in search of pictures of past generations and of our parents as children so I asked my mother and my mother-in-law to dig up some old family photo albums. We ultimately selected some photos of our own parents as children, our grandparents as young adults and our grandparents with us as babies. We converted all of the photos to black and white (easily accomplished at Kinkos!) and bought very simple, off-white Pottery Barn frames.
Another way that I introduced the presence of past generations was to feature their artwork. My grandmothers (and one great grandmother) had embroidered things for me when I was born. They are old-fashioned, colorful pieces that are meaningful to me and provided a solution to my problem of having no idea what to put on the nursery walls.
The paint color of the room was created by Lowe's. To get the color we wanted, we brought in the PBK baby bedding that we chose called "Lambie" and had them match the paint color to one of the pale, taupe colors in the print. We wanted to paint the room a light color in order to make it seem (hopefully!) bigger.
Then my husband installed the blackout curtains we bought at Bed, Bath and Beyond and the cordless blinds that we bought at Lowe's.
Our nursery is very small (we live in a city row house) so space was quite limited. It took some creative thinking to furnish the baby's room because it's so tiny. To use the space as efficiently as possible we used an online "birds eye view" nursery planner to make sure that the furniture we were buying would fit and not render us without any open floor space!
We ultimately bought the Kendall Pottery Barn Kids low profile crib as well as their Kendall dresser. These pieces have nice, straight lines (good for small rooms) and have a clean look that I really like. Our glider is also white and though it is a high end piece made by Dutalier, I found it for twenty dollars in a second hand store. This was the best find for a mom on a budget!
Much of the remainder of our
vintage baby nursery theme
was "DIY" (or "have husband do it"...) and secondhand purchases.
My husband remade the inside of the nursery closet in order to give us extra space. We used a great website called "Easy Closets" on which you can design your own closet and then install it yourself.
He painted a bookcase and a (previously wood-colored)night table to match the PBK furniture. To get a perfect color we had Lowe's create a custom match. We put up a shelf over the changing table that was also painted to match our beautiful furniture.
The finishing touches were a collection of new as well as old books from my childhood, a butterfly mobile (from Etsy!) and some toys and stuffed animals, some that I had as a child and some that we had received as gifts from friends. I also bought a few little baskets from Bed, Bath and Beyond for more storage space.
We feel that we ended up with a tiny but storage-friendly room that is calming and welcoming. I love that our little girl will start her life surrounded by the works and pictures of past generations. She is due in three weeks...we can't wait!
I hope that you enjoyed our
baby girl nursery pictures
and that you found many examples that you can use in your own baby's room on
Unique Baby Gear Ideas
.