How to Use Baby Swaddling Blankets to Comfort Fussy Infants
As a new mom I didn't have a clue as to how to use swaddling blankets as tools to ease my baby's transition from the snug and cozy environment of my womb to the harsh lights and sounds of the outside world. Many experts believe that if parents choose to swaddle a baby that it may make a baby feel more secure and therefore less fussy but frankly, I was a little afraid of them.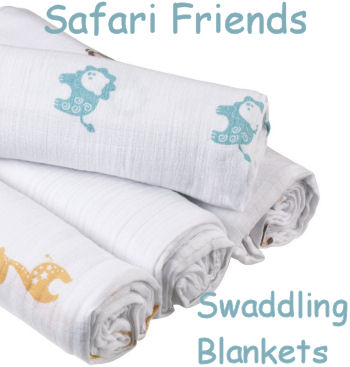 Go Here to See More
The swaddled babies that I saw seemed "restricted". I had to wonder were those blankets leaving them room to breathe? After studying up on the practice I learned that as with any practice involving the care of newborns, there are pros and cons. It wasn't easy for me to decide whether this was something that I wanted to do. Luckily, I have a pediatrician that listens without judgment. He helped me to get the information I needed and then went over the facts with me. I am forwarding some of the info I found on this page. Now it's up to you and your infant care professional to make the decision whether or not swaddling is right for you and your little one.




FACTS ON SWADDLING
There are any number of websites with excellent information on how to safely and successfully swaddle a baby. Once you do the research and have all the facts you may want to have a friend who is familiar with the practice to go over the steps with you for the first couple of times.
HOW TO SWADDLE A BABY

Spread your swaddling blanket on a flat surface with one corner folded down
Place your baby face up on the blanket diagonally in a position so that her head is above the fold
Pull the right hand corner of the blanket across her body and pull snugly band then tuck the corner under her back
Grasp the left hand corner to wrap the remaining side around baby
Grasp the remaining, lower corner of the swaddle blanket up to tuck it in under the portion of the blanket closest to baby's chin
Eliminate any bulky folds or lumps in the blanket to be sure that baby is comfortable
SWADDLING WITH ARMS UP OR DOWN
Some babies seem to sleep best with their arms down and wrapped inside the blanket. Others seem to enjoy having their arms free. If your baby is more relaxed with her arms outside the swaddle, simply do the wrap below her arms.
DOES SWADDLING HELP BABY SLEEP?
It is believed that swaddling blankets remind baby of the snug fit of your womb where she felt safe and protected. This feeling of security may help her to relax while feeling warm and comfortable. Another reason that swaddling might be the answer to some baby sleep problems is that some babies have an acute startle reflex that wakes them every time there is a noise. The swaddle blanket helps to prevent this.
WHEN TO STOP SWADDLING BABY
Many mothers wonder how long you should swaddle baby. The answer is that your baby will probably let you know by her behavior when it's time to put away the swaddling blankets. Some babies enjoy being wrapped longer than others. However, when your baby starts to be active and kicks the swaddling away this may be an indication that it's time to stop. Usually this takes place when babies are around four to five months old.
DANGERS OF SWADDLING
Baby swaddle blankets have been used for many years and calmed many babies suffering with colic and you should always consult your doctor on matters concerning your baby's care and health. If you do make the decision to swaddle, there are some things that you should avoid.
When you are wrapping your baby with swaddle blankets, never cover your baby's face as this is a suffocation hazard.
The swaddling blanket should be snug, not so tight that it will cut off the circulation to any part of the baby's body. There should be room enough for baby to flex her limbs.
Overheating is thought to create a risk factor for SIDS, so avoid using swaddle blankets in warm weather.
Supervise your swaddled baby at all times as blankets might work loose and suffocate a sleeping baby.
Here are some helpful websites with more information:
If you have trouble wrapping your baby securely, consider buying special swaddling blankets made specially for this purpose as they may fit better than ordinary blankets.
Return to find more Unique Baby Gear Ideas and tips to help you safely care for your baby.