Sweet, Dainty Southwest Baby Nursery Decor for a Girl

The examples of southwest baby nursery decor photographed by Chelsea Lusk Photography that we are featuring have been lovingly collected and displayed in her newborn daughter's beautifully decorated, blush pink and white room.

There are several classic decorations, western by design, as well as other unexpected touches that are sure to charm and delight.
At first glance, the color palette is so soft and understated, blending dreamily from one area to the next. But, look further to the accent pieces for pops of bright pink, metallic gold and edgy wall decorations.
The bleached, whitetail deer skull with a wreath of pink silk flowers adorning its antlers does an excellent job of balancing the gentle sweetness of the space, layering over a soft paint color called "Toasted Marshmallow". Some might not think a baby's room would be the place for animal bones but a recent visitor, a medical professional, with plans to include not one but three longhorn steer skulls in her nursery decorating project considers them her child's first anatomy and physiology lesson which makes them both lovely and educational.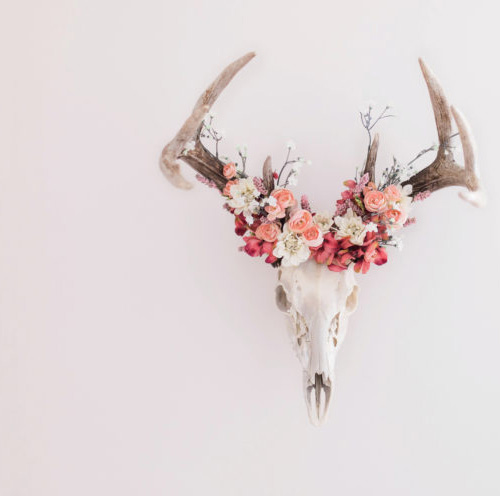 The textures and presence of the rustic wall decoration stands out yet complements the metallic gold cushions of the nursery's glider.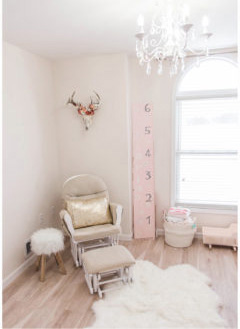 The starkness of the skull is in visual juxtaposition with the fluffy
sheepskin rug
with very pleasing results. The floor covering is white and fluffy just like the pup of the house who appears to be giving it a very high approval rating.
A smaller piece to the side of the glider brings the "fluffy factor" in the room up to to three.
A golden arrow with the little one's initial complements the metallic fabric of the upholstery.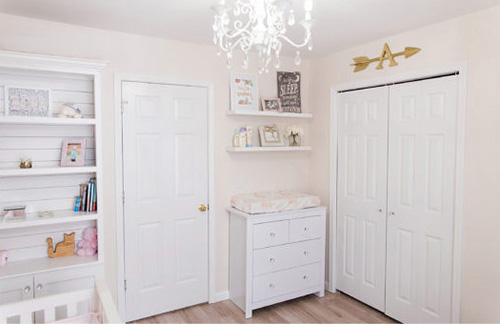 A closeup of the baby's changing area reveals a delightful arrangement of decorative items and accessories including personalized art and infant care products.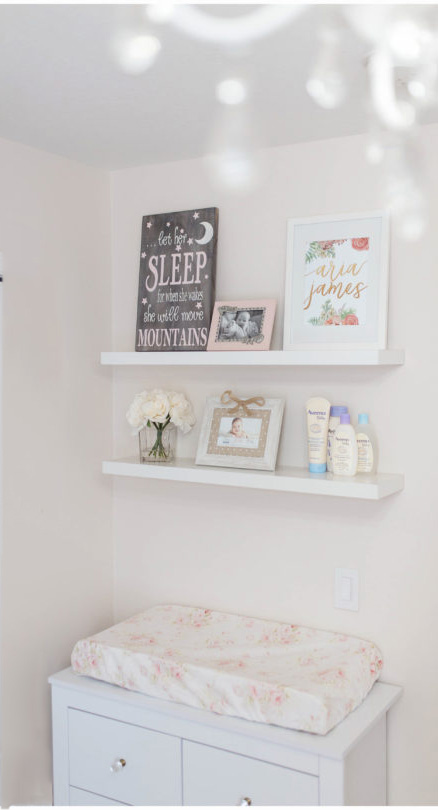 I love the piece featuring one of my favorite inspirational quotes for a girl, "Let her sleep for when she wakes she will move mountains".
And here are some candid shots of the parents behind this amazing design taken while out and about celebrating and enjoying every moment of Chelsea's pregnancy. The picture of the expectant couple dressed up for Halloween is too cute!
I would like to thank Chelsea Lusk Photography for allowing
Unique Baby Gear Ideas
to take our visitors on a delightful nursery tour with an introduction to some very tasteful and stylish southwest baby nursery decor ideas that they will undoubtedly want to use in their DIY projects.