Dinosaur Wallpaper
by Lisa
I saw some dinosaur wallpaper somewhere that showed the outline of the dinosaurs as they would have looked in prehistoric times but showed their bone structure (kind of like an X-ray) like kids would see in a museum. I already have my dinosaur baby bedding set and I can't decide if I want to cover an accent wall with this wallpaper, use a border or take the easy way out and use dinosaur wall decals. If I could get another look at this wall covering I think it would make my decision easier, but I can't find it. Has anyone seen something like I described?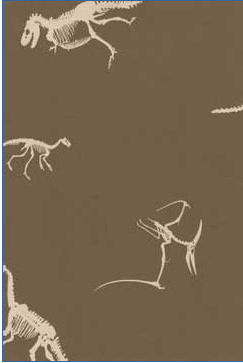 Book Name: NATIONAL GEOGRAPHIC KIDS

Pattern Number: NG63857


SEE MORE HERE
From the Webmaster:
Lisa, You don't mention the color of the
dinosaur baby bedding set
that you plan to use in your nursery but I found a wallpaper that appears to be exactly what you described and I have included all the details that you need to find this
nursery wallpaper
below the picture.
I love the chocolate brown of the background but there are many more colors that it comes in to pick from. A good color match for your crib set might dictate whether
dinosaur wallpaper or wall decals
is the best choice for your decorating project but any would be very educational and decorative.