Shiny Silver and Gold Baby Shoes
by Jan
No matter the season, there is always an outfit that looks best with shiny silver and gold baby shoes. Winter, summer, spring or fall, formal baby dresses made of black velvet and silk fabrics really shine their brightest when a baby girl's feet are covered with a tasteful bit of sparkle.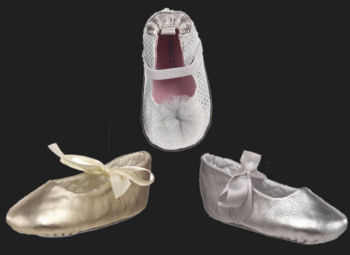 Go Here to See More
Crib shoes embellished with sequins might have a rosette of soft net gathered into a puff on the toe. The decoration can be used to add a complementary touch of pink or even red or green if they are worn during the Christmas holidays. An elastic strap over the foot and some stretch in the heel keep the little one's shoes comfortably in place without compromising the Mary Jane style.
Ballet crib shoes secured with a snip of ribbon tied in a big fluffy bow make the little lady's tiny tootsies seem all the more dainty while bringing an additional layer of interest and texture to a first portrait.
In addition to
shiny silver and gold baby shoes
, there are other metallic finishes to pick from.
Soft sole pink metallic crib shoes are especially festive with a white or black outfit.
Bronze and sparkling red girls shoes are other popular choices that can be worn everyday from early fall through Valentine's Day making the investment worthwhile.
Unique Baby Gear Ideas
would like to invite you to visit us after your photo shoot and upload pictures of your baby girl wearing her first pair of shiny shoes!