Rockstar Guitar Baby Rock and Roll Nursery Ideas
Musicians and fans of hard rock, rejoice. Ideas for a rock and roll nursery that will send your little rock star on his way to the Hall of Fame is at your fingertips. Guitar baby crib mobiles, bedding sets and musical instrument theme decorative accessories are finally available to decorate your baby boy's nursery according to your musical taste. If your favorite bands and recording artists are household names that are currently at the top of the music charts, you may be able to find products for kids printed with their logo.




THE WALLS
A basic rock and roll nursery theme is a fun way for mom and dad to introduce a newborn to their musical tastes as well as their favorite instruments and bands very early in life and on this page you will find some ideas on how to make it happen without spending a lot of money.


A line of mom and dad's guitars on the walls and maybe some guitar wall stickers and decals will do that trick in spades. But if you want a more drilled down, personalized rock n roll nursery for a baby boy that pays homage to your guitar hero, framed posters and memorabilia in attractive arrangements on the wall can set the tone for the room.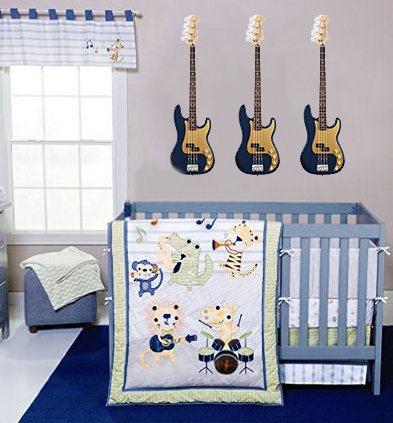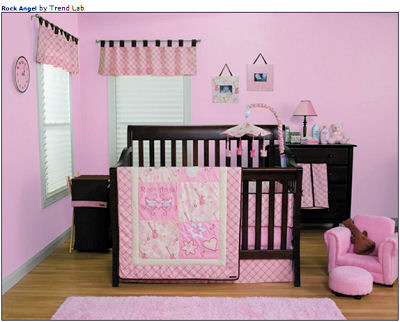 If they have recently launched a world wide tour with a series of gigs around the globe, you may have really hit the jackpot. The launch of a new CD accompanied by a tour is usually accompanied by promotional merchandise.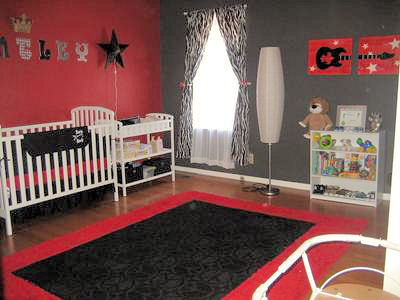 See more pictures of this rockstar baby nursery with rock and roll guitar bedding and decor here.
The creative rocking, rolling mother and father can make use of this windfall of opportunity and adapt many items (so long as they are baby safe, of course) to design a baby boy rock and roll nursery complete with Fender and Gibson guitars and drums galore to kick start their newborn's indoctrination into the world of punk or classic rock or encourage their baby girl to follow mom's occupation of professional groupie.
NO OFFICIAL MERCHANDISE? NO PROBLEM

It's possible to create exceedingly sick baby rock and roll nursery decor without having access to your favorite band's licensed merchandise. Finding the right crib bedding set might be a little tricky, but it can be managed. Solid color nursery bedding sets or fabrics with musical notes and guitars will keep the décor from lapsing into pastels and motifs that might clash with your ideas for a baby boy rock and roll nursery worthy of note. For the parent with a passion for punk rock there are plentiful crib bedding sets in gothic designs on the market. As of late, there is gossip that more than a few celebrity couples have taken their nursery decor to the dark side. The key is to personalize the look by showcasing your rock idols elsewhere in the room.

This generation of rock and roll babies has got it good. Every rocker with a Stratocaster has his or her own product line which makes decorating the room like a shrine to musicians a piece of cake. Grandparents might find rock and roll nursery décor odd and unusual that rock bands have taken the place of traditional motifs in the nursery, but they'll come to appreciate the eclectic style and originality in good time.
Return to find more for your little rockstar's room.
Please plan to visit our website again soon to find more baby girl nursery ideas, baby boy nursery ideas and nursery ideas for a rock star them for either PLUS a gallery of pictures featuring cute baby bedding sets and gift ideas for the infant that is certain to become the next great guitar player of our time.
SHARE IDEAS - PICTURES of ROCK n ROLL NURSERY DECOR
Do you have a great set of baby bedding or a picture of a nursery that you decorated in a rock and roll or musical theme? Share it!
ROCK n ROLLTHEME NURSERY PICTURES, IDEAS and SUGGESTIONS from our FRIENDS
Click below to see contributions from other visitors to this page...