Quilt Inspired Baby Girl Nursery Design with Colorful Lanterns
by Jan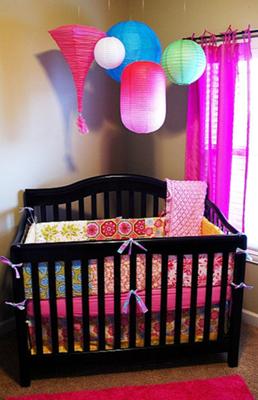 Colorful paper lanterns hung from the ceiling over the crib reflect the bright colors of the custom baby bedding.
One of the most common inspirations for nursery color schemes is the baby's bedding set. This bright and colorful nursery is an example of why this is so.

Megan, the webmaster of Brassy Apple got the ball rolling for this nursery's design with the decision to make a baby quilt for her sister's baby girl and I'm pretty sure the pictures that follow will send you scurrying over to see what else is going on over at her amazing blog.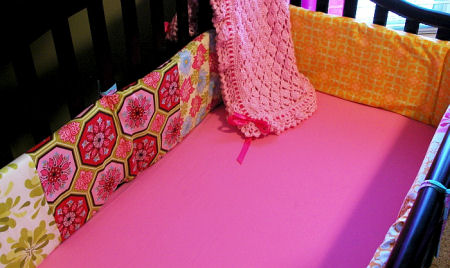 A combination of Michael Miller fabrics

from the Farmer's Market and Ginger Blossom collections were used to make the baby bedding.
The mother-to-be loved the patterns and colors of the quilt's fabrics so much that she used them as a blueprint for her baby girl's nursery.
In the sisters' search for fabric, fun was had and great deals were found. With the assistance from online Twitter friends they came up with the lovely mix of fabrics that were ultimately used to make the the bedding, decorative accessories, a lamp shade and art for the nursery walls.
All of the handmade items turned out beautifully. The room has lots of girly hot pink in the mix including the bright hot pink portion of the
nursery lantern mobile
over the crib, the tie-top curtain panels and a few of the fabrics but it's "cooled" with the addition of various shades of green, yellow and blue.
This close-up of the wall art that mom made for her baby girl's room is the best indicator of how colorful the nursery's decor actually is.
Shabby chic wall hooks mounted on unfinished, square, wooden wall plaques that have been decorated with fabrics seen in the crib set add a vintage touch to an otherwise very modern nursery.
To say that it was a good idea to use the baby quilt as inspiration and that the nursery turned out well are extreme understatements but it's true; the room is amazing!
To see more
baby girl nursery pictures
, please visit Megan's blog where you will find many craft tutorials and
baby nursery ideas
for your own decorating project.