Purple Nursery Ideas
by Nola
I am crazy in love with purple! Does anybody have any purple nursery ideas for baby boys? All the crib sets that I've found in purple are covered in butterflies, dragonflies and other designs that are obviously for a baby girl's room. I'm having a boy and want to start decorating his nursery in purple but can't find any baby bedding for boys in purple. HELP!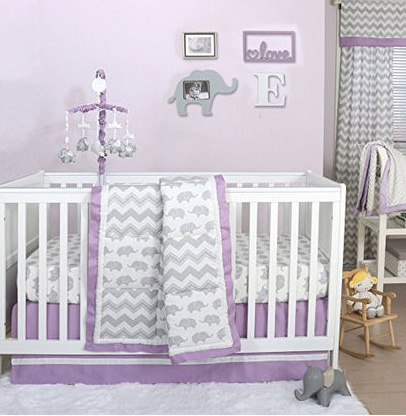 Go here to see more
purple crib sets featuring popular themes like this one with an elephant pattern.
From the Webmaster:
You don't specify a particular baby boy's theme or style of decor that you prefer but I found this precious purple and brown baby bedding set in a jungle or monkey
baby nursery theme
that I wanted to show you.
When you mentioned that you were looking for purple
nursery ideas for a baby boy
, I was skeptical that there was a ready made crib set that you could use but this collection might just work for you!
I would recommend that you play down the lavender color with lots of dark brown from the color of the dark stripes in the crib skirt and the monkey's fur and there you have the perfect baby boy's purple and brown nursery design...if you like monkeys, that is.
Does this style of nursery decor work for you or do we need to look further? Maybe some of our visitors that stop by
Unique Baby Gear Ideas
have some
purple nursery ideas
that will work in a baby boy's nursery to share with Nola?