Purple and Brown Polka Dots Baby Bedding
by Lee
Would the purple and brown polka dots baby bedding set by JoJo be alright to use in a baby boy's nursery? I had pictured a lavender, purple and white nursery for a baby girl in mind and then got the news that a baby boy is on the way. Now I need baby bedding for a boy's nursery but I would like to keep my color scheme.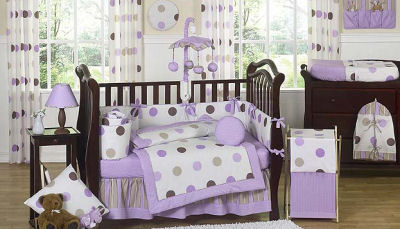 GO HERE TO SEE MORE!
From the Webmaster:
The
purple and brown polka dot bedding set
in the picture by JoJo might work but to keep your purple nursery ideas masculine, you will need to focus on carrying the chocolate brown of the dark colored polka dots to other areas of the nursery. It would help a lot if there was less lavender and more dark purple, but it's certainly doable.
Join in and write your own page! It's easy to do. How? Simply click here to return to PURPLE NURSERY PICS.