Purple and Brown Polka Dots Baby Bedding
by Lee
Would a purple and brown polka dots baby bedding set be alright to use in a baby boy's nursery or should I go with something else maybe the one in the picture I posted?

I had pictures of a lavender, purple and white polka dotted nursery design for a baby girl in mind but my friends say, "No"! Dots are OUT! I thought I had the perfect idea but according to them, I need to start looking for another kind of baby bedding and that is OK with me but I would like to keep my color scheme.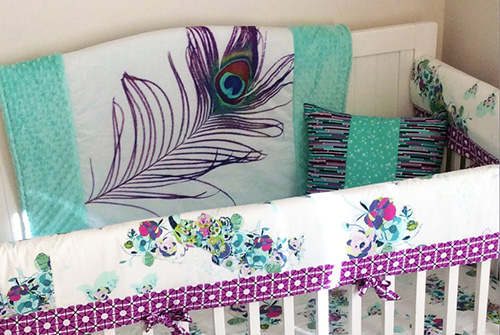 Visit CribBeddingByBB
to see more beautiful purple crib sets in the latest color combinations and styles.
From the Webmaster:
The
purple and brown polka dot bedding set
in the picture by JoJo might work but to keep your purple nursery ideas masculine, you will need to focus on carrying the chocolate brown of the dark colored polka dots to other areas of the nursery. It would help a lot if there was less lavender and more dark purple, but it's certainly doable.