Baby Airplane Theme Nursery Room Decor Ideas
On this page we have both modern and vintage airplane theme nursery pictures that you must see before you choose your crib set. Mothers of baby boys have been so generous in sharing their photos as well as tutorials for DIY painting and sewing projects. Imagine my delight when a mother sent in a picture of her baby girl's airplane nursery.


The room was very modern, stylish and with very few modifications could be gender neutral and made ready for the next baby boy or baby girl's arrival. What a pleasant reminder it was to me that there are just as many female pilots as there are male flying the friendly skies.
What this means to those of us who focus on nursery decorating trends and decor rather than flight maps is that the popularity of the (already popular) airplane nursery theme is likely to become even more popular as time passes.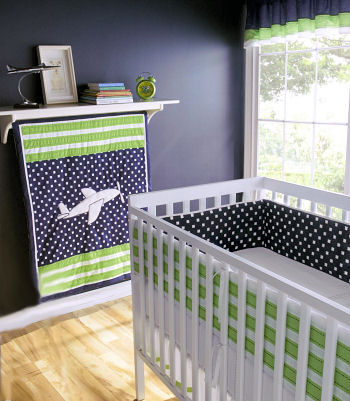 cute baby bedding sets for your little aviator's crib.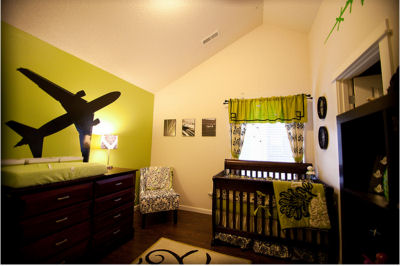 Modern Airplane Nursery Theme
The parents that decorated this room for their baby clearly admires the latest designs in modern aircraft.
Jett's mom and dad have an appreciation of modern aircraft as well as the history of planes as evidenced in their collection of vintage airplanes on display in their baby boy's nursery.
This mom and dad chose a preppy, red, navy blue and grey color combination for their son's airplane themed nursery.
The red color of the airplane shaped wall shelves reflects the color of the baby boy's crib set.
SHARE IDEAS - PICTURES of AIRPLANE NURSERY DECOR
Do you have a great set of baby bedding or a picture of a nursery that you decorated? Share it!
NURSERY PICTURES, IDEAS and SUGGESTIONS from our FRIENDS
Click below to see contributions from other visitors to this page...


Nursery Tour: Jet Airplane Theme for Jett

When parents name their baby boy Jett, it just stands to reason that his room will be decorated in a jet airplanes theme complete with pilots on board …

DIY Wall Art and Decorations for an Aviator Theme Nursery for a Baby Boy Not rated yet
I decided to take the DIY route for most of the wall art and decorations for an aviator theme nursery for a baby boy since my boyfriend has always been …
AIRPLANE NURSERY BEDDING
At the time of this article, I couldn't find a cute set of airplane baby bedding for a baby girl. All of the crib quilts had fabric with more than a little baby blue, brown and other boy oriented colors. Remember the nursery that was decorated for a baby girl that I mentioned earlier? If you will take a close look at the picture, you will notice that the nursery has been decorated using a black, olive green and white crib set as an inspiration piece.
AIRPLANE NURSERY THEMES
Two of the most popular pilots flying planes in nurseries are Disney's Mickey Mouse and Snoopy in Red Baron. Snoopy is an excellent choice if you happen to have a collection of vintage WWII fighter plane models.
AIRPLANE NURSERY IDEAS
Paint a cloud mural on the nursery walls and use it as a background for some cheap airplane stickers from the era of your choosing in colors that complement the fabric in your nursery bedding.
Buy or make your own homemade airplane crib mobile using model airplanes that someone special made during their childhood (keeping them safely out of baby's reach, of course).
Frame travel posters or postcards advertising air travel opportunities from an era that is appropriate to your airplane theme nursery decor.
Unique Baby Gear Ideas would like to invite you to share your airplane nursery pictures with our visitors by using the form on this page that has been provided for that purpose.