WHITE and LIME GREEN NURSERY
by Olivia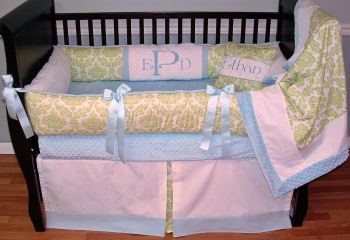 This Modpeapod custom baby bedding is the perfect inspiration for a white and lime green nursery for a baby boy.
The fabric on my baby's crib bumper is what makes his white and lime green nursery bedding set so incredible! He has lime green polka dots on the fitted crib sheet and the tailored crib skirt is cute but without a doubt, the dramatic effect of the bold damask print with such an unexpected color places them firmly in second and third place in order of importance.



If you take a moment to examine the details of the white and lime green nursery decorating ideas that I carefully organized and placed in a folder throughout my pregnancy, you will note that the simplicity of the room's design is striking.
I chose plain, white paneled walls and a painted white floor with a simple stenciled pattern painted in lime green that reflects the print of the fabric used to sew the curtains.
Each feature standing alone doesn't catch the eye but when you take in all of the decorative elements as a whole, the
white and lime green nursery
is nothing short of amazing even if I did decorate it myself.
If I had gone too "fancy" with each decorative decision I believe that the small nursery that I had to work with would have been too "fussy" and cluttered. The results that I achieved taking the DIY route are exactly what I wanted for my baby boy and yes...for myself.
The best advice I can share with visitors of
Unique Baby Gear Ideas
is to take your time and not to look at everything you buy as a stand-alone item but to imagine how it will fit with the other elements in the space and to enjoy yourself!