Purple and Lime Green Owl Nursery Design Ideas
by Chloe
How do owls come into play in my purple and lime green nursery design? Well, I wanted our baby girl's nursery to be decorated in my favorite color which is and always has been purple and my favorite bird is the beautiful owl. But, I didn't want the room to be too girl-y or to be too rustic.


To keep either from happening, I began my search for accent colors that look good with dark purple and lavender that I could use in my baby girl's nursery. When I saw a room decorated in purple and lime green I knew that I had found the perfect color combination.




See more here
As soon as I knew for certain that I was expecting a girl, I got started.
This wall mural really caught my eye but I wanted a darker shade of purple for the wall color.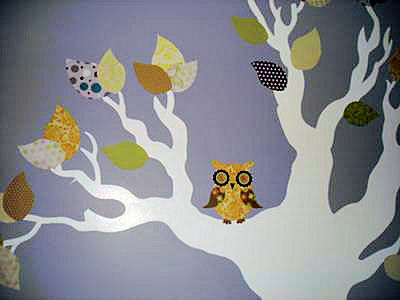 DIY Owl Nursery Wall Mural
Yes, for just a moment, I thought that I might regret not decorating a pink nursery but I just put that worry aside and jumped in. Lime green seemed to be the perfect solution along with the neutrals that I included in the décor.
I chose an antique white crib, changing table and dresser.
The creamy color of the furniture helps to tone down the bright purple bedding and lime green decorations around the room.
I hope that you like my
purple and lime green owl nursery design ideas
. It goes without saying that this is the most eye-popping, purple nursery I have seen.
It is bright and cheerful, which if I had gone with a natural owl nursery theme, would not be so.
I get alot of compliments on how unique and pleasant it is and I hope that others that visit
Unique Baby Gear Ideas
will follow my lead and not be afraid to take the risk and try something different!