Yellow and Blue Baby Bedding and a Vintage Sunflower Quilt Add a Touch of Tuscany to the Nursery
by Trish
(Meridian, Idaho)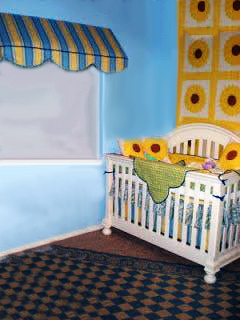 Yellow and Blue Baby Bedding and a Vintage Sunflower Quilt Adds a Touch of Tuscany to this baby nursery's interior design
Yellow and blue baby bedding and a vintage sunflower quilt add a touch of Tuscany to the nursery. We used a wonderful vintage applique quilt as a wall hanging and found that the piece served nicely to set both the color scheme and the nursery theme.

We got the antique 1940s Sunflower Quilt for a cheap price because it had some damage on the edge which was removed when we cut it down to the size we needed for a wall decoration. The leftover quilt blocks were made into pillows that complement our yellow and blue baby bedding set beautifully.



We made a striped awning to create an atmosphere of being outdoors, and completed it with a clouds painted on a sky blue nursery ceiling.
The white, cottage style dresser and shelves were garage sale finds.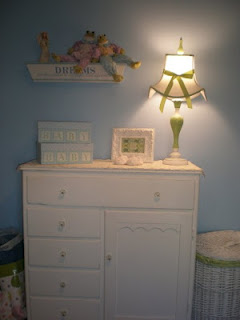 The old dresser was purchased at a yard sale for a song and was exactly what we were looking for, a sturdy piece for our vintage nursery.
Our baby loves her
vintage nursery
and we do, too! As you can from our baby girl nursery pictures, the yellow and blue baby bedding and the vintage sunflower quilt add just the right touch of Tuscany.
You can find great vintage quilts to use as decorations in addition to your baby bedding to inspire your own interior designs and baby nursery themes on the vintage blessings website.