Southern Female Names Beginning with B
I want to share my list of classic southern female names beginning with the letter B. I plan to list more classic as well as unique southern names for girls as well as to list some odd surnames that may have been used as first names for girls that are not commonly regarded girl's names nor will you find them on most lists of baby names.
My idea, when starting this list was to locate popular feminine southern baby names whose origin was from European countries such as the Irish, French or English. I was amazed to find that the popular southern female names were peppered with Latin, Hebrew with a few Greek names.

Southern Female Names
Gender
Country of Origin
Meanings
Nicknames
Babette
female
French
lovely
Babs,Baby
Bailey
unisex
French, English, Teutonic
bailiff
Bay,Baily, Bayley, Bailee, Baylor
Baird
Unisex in south
Scottish
minstrel
Bay,Bard
Ballard
Family Oriented Southern Female Names, Unisex
Old English, French
a song of dancing
 
Bambi
female
Italian
baby, child
 
Bancroft
Southern Female Names - Family
Old English
Fields of Beans
 
Barbara
female
Greek, Latin
exotic,mysterious
Barbera, Barbie,Barbs,Barb,Babs, Bobbie
Barclay
Southern Female Names - Family
Old English
birch meadow
Barklay, Barkley
Barnett
Unisex Southern Family Name
Old English
noble, honorable
Barnet
Barrett
Unisex Southern Family Name
Teutonic
bear-like
 
Barretta
female
unknown
Cap, beret
 
Berry
female southern name
French, Celtic, Welsh
spear master, marksman
Barrie
Barton
unisex family name
English
of the barley farm
 
Bathsheba
female
Hebrew
daughter of promise or the oath
Sheba
Baxter
unisex
Old English
baker
Bax, Baxley
Bay
female
Scottish
N/a
 
Beatrice
female
Latin
happy, bringer of joy
Bea, Beatrix,Tricey, Patrice, Trixie, Trixy
Bebe
Female
French
baby,babe
Babe,Baby 
Beccalynn
female
English
 
Becca,Lynn,Becky Lynn
Beck
Female
Swedish
brook
Becky,Becca 
Bedelia
female
French
strength
Bea,Delia 
Bela
female
Czech
white
Bella,Belle 
Beldon
Female
Old English
beautiful pasture, child of the pretty glen
Belden
Belicia
female
Spanish
dedicated to gods
Belle,Bella, Isabel, Isabelle
Belinda
female
Spanish, Italian
beautiful serpent
Belle, Linda
Belladonna
female
Italian
beautiful woman
Bella, Bel
Bellamy
Female
Old French
handsome friend
Belle,Bell
Bellanca
female
Greek
stronghold or fort
Belle,Bella 
Belle
female
French
beautiful,lovely
Bea,Bella
Benita
female
Latin
blessed
Bente
Benito
male
Latin
blessed one
Bonita
Bentley
female
Old English
of the moor
Bennie,Bea 
Bergen
female
German
mountain dweller
n/a
Berkeley
female
Anglo-Saxon
from the birch meadow
n/a
Bernadette
female
German
boldness of a bear
Bernie
Bernice
female
Greek
bringer of victories
Bernie, Berry, Nicey
Berta
female
Germanic
glorious,learning
Robert,Bertie 
Beryl
female
Hebrew
dazzling jewel
Berry
Beth
female
Hebrew
house of god
Elizabeth, Betty
Bethany
female
Hebrew
house
Beth, Betty,Bett, Bethanie, Betheny, Annie,Bethannie
Beulah
female
Swedish
married
Lalah,Lallie
Berk
male
Turkish
solid and firm
 
Berkeley
male
Anglo-Saxon
from the birch meadow
Berkley
Beverly
unisex
Old English
meadow of beavers
Bev, Lee, Beverley, Beverely,
Bevin
Gender Neutral
Celtic
Female with a sweet song, Son of Evan
Bevan,Bev
Bianca
female
Italian
white
Biancha,Blanca
Birch
female
Old English
white
N/A 
Birget
female
Norwegian
Caring, protecting
Briget,Birge 
Birkita
female
Celtic
Having Strength
Birket,Birkie,Burkett 
Blaine
female
Gaelic, Old English
thin,lean,source of a stream or river
Blain, Blane
Blair
female
Gaelic
of the plains,child of the fields
Blaire
Blaise
female
Latin
one who stammers
Blase,Blaze,Bliss
Blake
female
Old English
fair-haired,pale
Blakeley
Bliss
female
Anglo-Saxon
joyful,joy
Lissie 
Blossom
female
Old English
lovely, like a flower
n/a 
Bly
female
Native American
with height, high, tall
n/a 
Blythe
female
Old English
joyful,joyous
Blithe,Bly
Bonnie
female
Scottish
sweet and good, pretty of face
Bonny
Bradley
female
Old English
broad meadow
Bradly,Lee
Branch
female
Latin
extension
Branche 
Brandi
female
n/a 
beacon light
Brandy,Brandee 
Bray
female
Old English
to call, cry out
Bree,Brea 
Bree
female
Celtic
broth
Brea,Bray 
Brenda
female
Old English, German
firey hill, sword-blade
Brendi,Bren,Bryn
Brenna
female
Celtic
dark-haired,Raven haired maiden
Brynn,Bren,Brynna 
Brett
female
Old English, Celtic
a daughter of Britain
Bretta, Bretton
Briana
female
Celtic
strong, forceful
Bree,Brea,Brianne, Brianna
Brice
gender neutral
Celtic
swift,quick-moving,Rice's son
Bryce
Bridget
female
Celtic
saintly, resolute, strength
Brigetta, Brigette, Brigitte, Brigid, Britta, Brita, Brit, Bree, Birdie, Bryde, Bridge, Gidget, Gita, Gidgey
Brie
female
French
French region
Brea,Bree 
Brier
female
French
heather
Bry,Bryer 
Brietta
female
Celtic
strong
Bree,Brie,Etta 
Brilynn
female
 
strength, casade
Brylinn,Bry Lynne,Brie 
Brina
female
Celtic
protector
Ina,Bry,Brena 
Briony
female
Latin
plant name
Bry,Bree,Ona,Ony 
Britt
female
Hebrew
the helpful one
Britta 
Brittany
female
Latin
strong,from England, industrious
Britney, Brittny, Brittney, Britany, Brit, Britt, Brittyn, Brits, Britny
Brody
female
Gaelic
ditch, unusual facial hair, beard
Brodey,Bro 
Bronwyn
female
Welsh
fair of breast
Wyn,Wynne
Brook
female
Old English
stream
Brooke,Brooklynne
Bryn
female
Welsh, Norwegian
hill, coat
Brynne,Breanna,Bree,Brea
Bryce
female
N/A 
N/A 
Bry, Brice, Bryse
Brysen
female
N/A 
N/A 
N/A 
Buffy
female
Hebrew
God's promise
Buffie,Buffi 
Bunny
female
English
little rabbit
Bunnie,Bonny 
Burdette
female
Middle English
small bird
Birdy,Birdette 
If you've made it this far down our list of unique, southern female names beginning with the letter B, you may have made note of the fact that many popular baby names for baby boys are considered to be unisex or gender neutral names in the south. The reason for this would be that in the days of high infant mortality, southern gentlemen might not want to take a chance that there would be no sons to be their namesakes.
The answer to this problem might be to name their first daughters with a variation of the father's name along with the mother's maiden name. Once the naming process according to tradition was on the legal documents, the baby girl was tagged with a clever nickname that was more in keeping with popular southern female names of the day.
The odd thing is that this tradition for baby names in the modern south is still in practice even though infant mortality is at all time lows.
Return to Unique Baby Gear Ideas, Nursery Themes and Decorating Ideas for more classic, rare or even odd southern female baby names.
When you click on links to various merchants on this site and make a purchase, this can result in this site earning a commission. Affiliate programs and affiliations include, but are not limited to, Amazon and the eBay Partner Network such as the ones to your left on this page. Please see our Affiliate Disclosure page for more information.
More UBGI:  
Rss Feed | 
Facebook | 
Twitter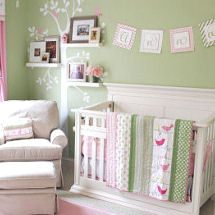 Pink Nursery Ideas
Gender Neutral Baby Animals Carnival Nursery Theme