SMALL MODERN NURSERY
by Karen
(Boston)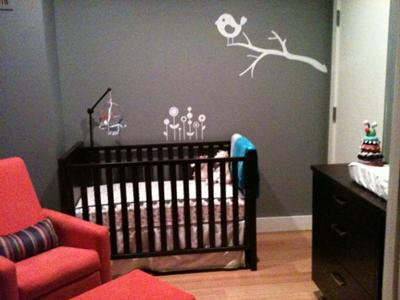 Small Modern Orange Gray, White and Black Nursery for Baby A Small Space with a Modern feel and Bright Colors!
We decorated our small modern nursery to have the personality of a much larger room. We live in a very small condo in the city and we converted the only available spare room, the one we had used as a study, into a nursery for the baby.


Since the living area flows through French doors into the space, I wanted modern feel of the rest of the house to flow into the baby's room to make the nursery a fun and comfortable room where we could hang out and enjoy our child.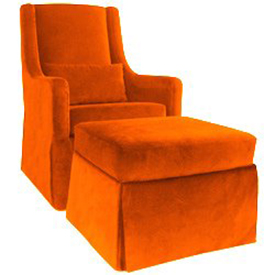 Go here to see more
orange nursery gliders with ottomans for your baby's room.
BRIGHT COLORS for Baby's Modern Nursery Theme
We choose a bright orange (and very comfortable) orange
nursery glider
by Monte.
Finding a Crib to Suit Our Needs
Pali crib
and dresser as they were both known for their Modern style and their quality construction. The lumbar pillow on the glider is upholstered in fabric that has bright green, blue, pink and purple stripes on it and I tried to re-use every one of those colors as much as I could in other areas of the baby's nursery.
HIGH CONTRAST
I also used a lot of black and white in the room'S decorations because I read that contrasts are easier for an infant to see.
Modern Decorating Ideas for the Nursery Wall
I found the flower and
bird tree branch wall decals
online and I made the 3D butterfly wall decorations out of scrapbooking paper and wire. I incorporated as many bright colors into the neutral,
gray baby nursery
as I could using colorful baskets, toys and a beautiful framed print that is hung on the wall above the chair(also from Etsy).
Owl Baby Bedding
I fell in love with an owl print crib sheet from Pottery Barn Kids although the rest of the bedding was too "pastel" for my taste and we decided to go bumper-less due to all the controversy surrounding them recently.
I can't wait to meet our little girl and see if she likes what I've done with her small modern nursery!
From the webmaster:
The pops of bright color in the small space produced great results. Your design is a visual tutorial on how to successfully use color to make the most of however much square footage you have! Using the glider's striped pillow as your inspiration piece was a very smart move.
Thanks so much for allowing us to add your modern decorating tips with all of us here at
Unique Baby Gear Ideas
to our gallery of nursery pictures. I'm sure that our visitors will appreciate the many details of your small nursery's huge personality and see features that they will want to use in their own DIY decorating projects.