Simmons Crib Parts Requests and Replacement Parts Resources Incl. Phone and Email
Many new parents have no clue as to where to go to find Simmons crib parts that were lost during a move or just misplaced in storage. If you need screws, bolts brackets, plastic teething rails or other Simmons replacement crib parts to fix your crib.
The help you need may be right here so long as the crib meets all safety standards and is not included in a recall.
On this page you will find the contact information for the Simmons Consumer Help center as well as a form where you can post a request for replacement parts, hardware or the assembly manuals that you are looking for to see if another parent might have what you need and be willing to share. Before you use any of the contact numbers or post your parts requests, you should have the name and model number of your crib and the date that the baby bed was manufactured ready.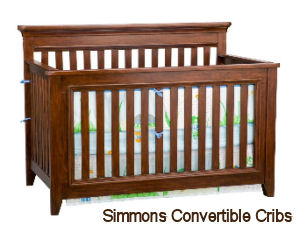 Go here to see
Simmons crib rails and parts for sale that can be used as replacements for the ones that have been lost or broken.
How to Request Help in Finding a Missing Part Using the Comments Form Below
If you have the instruction manual you might scan a picture of the parts diagram and circle the picture of the part that you're looking for or take a picture of the crib and post it if you don't know the model number.
IMPORTANT!
After you learn the model number you should visit
THIS PAGE
to determine whether or not your crib has been recalled and is safe to use.
CRIB PARTS RESOURCE REQUESTS
Do you need a resource for some crib parts? Post your questions and requests here!
PICTURES, IDEAS and SUGGESTIONS from our FRIENDS
Click below to see contributions from other visitors to this page...

Simmons Contact Information
WHERE CAN I GET SIMMONS CRIB PARTS?
When you have all of the information in hand and ready, the first thing to do is call the Simmons consumer help line at (800) 421-2951,800-218-2741 or if toll-free doesn't work you might try 920-779-4004.
Their email address is:
customerservice@sjfdec.com
and their snail mail address is:
Simmons Kids Furniture
677 Commerce Drive
Hortonville, WI 54944
You might also visit www.simmonskids.com/recall/ and check to be sure that your baby bed has not been included in a recall and that it will be safe for you to use. If your
Simmons baby crib
has been included in a recall, it may be advisable to ditch all efforts to fix it or find replacement parts. The same advice may hold true for older baby cribs that may not measure up to current safety standards.
If you have spare crib parts or crib instructions, please take a moment and make the new moms and dads that visit
Unique Baby Gear Ideas
searching for Simmons crib parts and baby nursery ideas aware of any screws, springs or parts that you have and would be willing to share or sell.