Serene Green Gender Neutral Nursery
by Holly
(IL)
The choice of a calming green paint color was the start of our baby boy's serene, green gender neutral nursery design. To complete the look we added antique white wainscotting to the walls to accent the fresh, green paint color.


Most of our baby's nursery furniture was passed on to us from various family members and our aim in using these items rather than to buy new was to create a nursery with an antique look. The baby bedding set has a print that includes animals and stars and so we incorporated these themes into the wall decorations.



Over the crib, we added an inspirational "When You Wish Upon a Star" wall decal as the finishing touch.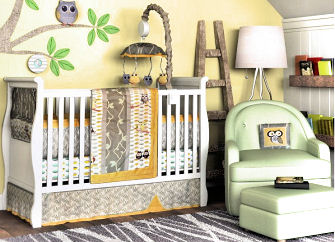 Go here to see more
items that can be used to decorate a peaceful nursery for a baby boy or girl.
From the webmaster:
Thanks for sharing your peaceful
baby nursery ideas
with us, Holly! Your
green gender neutral nursery
design will be an inspiration to other moms who want to create a soft place for baby to land at the end of each day.
I especially love the way that you tied the wall decal in with the stars in your baby's crib set. I found a resource for the wall saying that you used if anyone wants and I was wondering if you might share the name of the bedding collection as well. The best of luck to you and I truly hope that every single one of your baby's wishes all come true