Best Sailboat Accessories for Kids
Sailboat accessories, decorations and room decor can be something as inexpensive as a small drawer pull or something as elaborate and luxurious as a hand painted wall mural. How many and what kind of boating theme items that you put to work depends entirely on your budget, the bedding set and the size of the bedroom that you are decorating.



Sailboat Nursery Theme

Sailboat Nursery Rugs

Nautical Baby Bedding



(ALMOST) FREE SAILBOAT DECORATIONS and DECOR
Before you start shopping for new sailboat accessories, take an inventory of items that you have on hand that you might use as sailboat accessories to decorate your sailboat baby nursery nursery theme. It would be a shame to miss a once in a lifetime opportunity to display your collection of miniature antique wooden sailboats that is packed away in a closet gathering dust.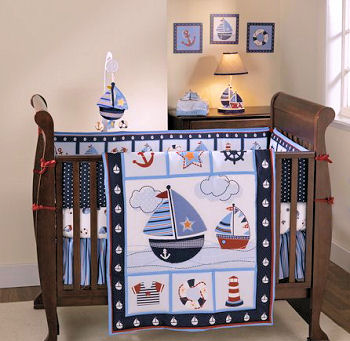 Go Here to See More
DON'T GO OVERBOARD
Pardon the pun, but you don't want so many sailboats in the room that they make you feel like are drowning in boating equipment. There is no decorating rule that says that you have to buy all of the sailboat decorations that come with the baby's bedding right down to the matching sailboat rug. Don't make the mistake of crossing the fine line between designing a nicely decorated room and creating a space that looks more like a room example in a furniture and bedding store than a real room for a baby. Your room will be more attractive and the money stays in the bank account.
SAILBOAT WALL CLINGS, DECALS and STICKERS
Sailboat lamps, artwork and rugs are classic decorations that are functional as well as decorative in any room of the home from the kitchen to the bathroom. But when decorating a baby's nursery or kid's bedroom, you might consider adding some sailboat wallies for fun and for added color.
With planning and the assistance of our decorating ideas, the results of your work will be a peaceful place where you and your children can safely dock at the end of a busy day.
Return to find more Unique Baby Gear Ideas and tips on stylish sailboat nursery decor.