Bunny Rabbit Lamps for a Baby Nursery Decorated for a Boy or Girl
Did you know that rabbit lamps aren't just for babies? That's right, they aren't just for use in the nursery. Bunny lamps are popular in every room of the home from the baby's nursery to the boudoir. Their versatility is owing to the fact that you can find rabbit table lamps in everything from ceramic to elegant amber Tiffany glass.

Bunnies are popular subjects of classic oil paintings, tapestries and upholstery fabrics, so why not table lamps? You don't have to be a kid to appreciate the soft fur and the cute pink noses of a bunny rabbit. Rabbit table lamps are right at home in French country decorating projects as well as the English country estate style of decor.
When decorating a nursery, you might want your bunny table lamp to reflect one of the storybooks where the main characters are bunny rabbits. A
Beatrix Potter nursery theme
is the first storybook nursery theme for a girl that comes to mind.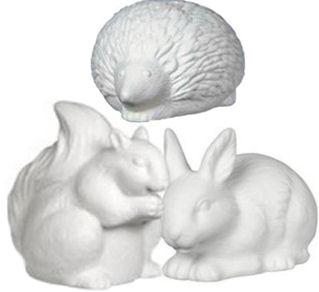 Go here to see all of the
possibilities for an arrangement of inexpensive ceramic woodland creature nursery lamps.
The story is about an entire family of garden bunnies with cute names like Flopsy, Mopsy and Peter Rabbit as well as Jemima Puddleduck and others. They live in close proximity to Mr. McGregor's garden where they are in constant competition with the farmer for the use of his lovely green cabbages and tasty orange carrots.
A Peter Rabbit or Peter Cottontail nursery theme, as well as the Nutbrown Hare work well as nursery themes for baby boys. When shopping for nursery chandeliers, you might start your search at the official site of these storybook characters to be sure that Flopsy, Mopsy and Peter closely resemble the pictures in the book.
Rabbit Nursery Lighting for Baby Boys and Girls
If Beatrix and the bunnies is not your cup of tea, but you still have your heart set on a bunny table lamp, I would suggest white bunnies for baby girls. Arrange a stuffed, plush, white bunny with pink eyes and a big, fluffy satin ribbon bow in the nursery rocker next to the table where you have placed your rabbit lamp for a sweet, feminine vignette.
Brown and black bunny rabbits are more masculine and would be great for a boy's bedroom. Picture Peter Rabbit in his baby blue jacket in the watercolor pictures painted by Miss Potter in your mind. Can't you imagine a darling baby boy's nursery with Peter as the inspiration? If Peter Cottontail is not the look that you're after, a white rabbit lamp with a big blue bow around the bunny's neck would be just as sweet. When baby is older and ready for a theme more suitable for a big boy or girl, simply remove the colored bows and relocate them to another location in your home.
Return to Unique Baby Gear Ideas for more ideas on how to include a bunny rabbit lamp in your nursery decor.