Polka Dot Fabric- Polka Dot Nursery Fabric for Crib Bedding and Upholstery Projects
There are many ways to use polka dot fabrics to decorate your baby's nursery. On this page there are pictures with examples of many sewing projects where moms that like to or have learned how to sew will show you how to make your own crib sets with matching curtains and how to use heavier weight fabric for DIY upholstery projects.
The pictures that we have for you will demonstrate the many different color combinations as well as the ways they can be used to make your decorating project really stand out.
Moms have decorated using sophisticated polka dot prints in elegant colors that are perfectly appropriate in a master bedroom as the are in kids' rooms.
Polka Dot Fabrics to Use for Baby Nursery Sewing Projects and More
We also have examples featuring whimsical polka dot patterns in all the colors of bright and cheery gumballs that are perfect in rooms for kids of all ages.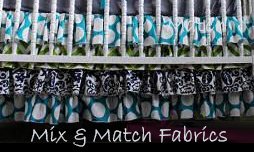 Mix and match fabric with polka dots with other patterns such as damask prints, chevron stripes and others to add interest.
This technique would be suitable for a ruffled crib skirt or ruffled curtains where strips of coordinated fabrics can be easily joined together with amazing visual results.
No-Sew Ideas for Polka Dot Nursery Fabric
The crib set and nursery window treatments have been made and you have a stash of leftover fabric scraps. What should you do with it? Arts and crafts, scrapbooking? Those are excellent ideas, of course but why not use a starch solution to glue the cut outs to the nursery wall to match your baby bedding and upholstery? This crafty mom used
polka dots nursery
fabric to create adorable decorations for the wall using a variety of patterns to match the crib skirt that she made.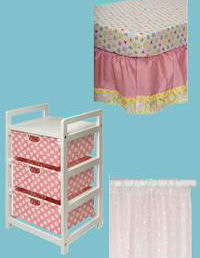 Crib sheets are washed more often than any other item in the nursery and making extras is always a good idea. There are free sewing patterns available online to help you measure for a good fit to the mattress.
Polka dot fabric can also be used to make curtain panels and give used furniture a fresh, new look.
Metallic gold polka dot decals on the nursery wall pick up one of the colors of the crib's bumper pad and patchwork quilt that may have been sewn with Moda polka dots fabric.
A patchwork baby quilt is another excellent way to use up any leftover fabric from your sewing and decorating projects.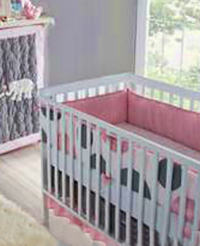 Big polka dots are a focal point unto themselves in a large space.
Color combinations are important but it is also important to scale the size of the dots in the polka dot fabric to the size of the room.
There are many, many craft and sewing project for polka dot fabric on
Unique Baby Gear Ideas
and I hope that you will enjoy browsing our site to find the ones that are perfect for your child's room.