Free and Easy Knit Baby Booties Patterns and Projects for Baby Boys and Girls
On this page we have a free and easy knit baby booties pattern  with detailed instructions to help beginners start building a stash of knitted baby booties to keep on hand to give as gifts at the next baby shower. 
If you have a stash of partial skeins of wool yarn left over from knitting a baby blanket or afghan you should consider adding some matching booties to the project.
Why buy expensive baby gifts when you have the skill and materials to make lovely, homemade gifts cluttering up your craft bag? While you are watching a movie with the kids, watching Oprah or catching up on your soap opera you can be knitting and purling a pile of creative, one of a kind baby shoes that will keep those precious, tiny toes and ankles warm without spending a bundle.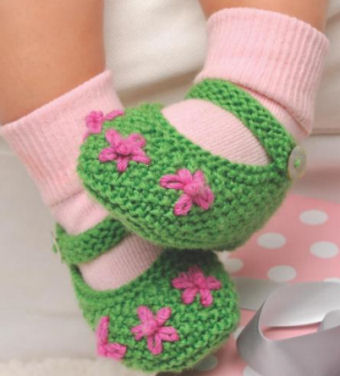 Go here to see more
Special Knitting Techniques and Instructions
The pattern that we have for you below includes instructions for knitting the booties as well as instructions for how to make a ruche and decorative tassels that you can use to personalize and create your own original knit baby booties pattern.
The Stitches and Knitting Techniques That Everyone Should Know
Go
HERE
to see what every knitter should know that will make your next project so EASY!
Free Knit Baby Booties Patterns
MATERIALS - 1 ounce of white wool yarn (Berlin). 1 skein of white, and 1 skein for embroidery, four knitting needles: two size Number 21, and two size Number 19.
With the smaller needles you will cast 30 stitches on one, and 20 on each of the two other needles. Join them into a round, and then purl one round.
Instructions for the first knit baby booties pattern round: X slip 2 stitches, taking them off the needle in the manner as if you were about to purl them, keeping your wool yarn at the back; knit 3. X repeat all around.
No.2, 3, and 4 rounds are the same.
No. 5 and 6 rounds : You will purl each stitch.
No. 7 round to the No. 10 round inclusive: X knit 3 stitches, slip 2 as before, X repeat all round, with the 11th and 12th purled.
No. 13 to 16 inclusive: X knit 2 stitches, slip 2 as before, knit 1, X repeating all round.
No. 17 and No. 18 purled. Repeat the first 18 rounds again.
You will then do the same two more times; but instead of knitting three stitches you will always decrease by knitting two stitches together (once) on the needle that holds the thirty stitches in each row that is not plainly purled continuing until only twelve stitches are left on the needle.
When 72 rounds are complete, the knit baby bootie will be of sufficient length. You will now purl two rounds, divide the whole number of stitches on the two knitting needles. Take care that the twelve stitches shall be exactly in the center of one. You will then join up the toe of the knit baby bootie by casting off and knitting one stitch from each needle together.
You will now take up the twenty center stitches of the 70 stitches that you originally cast on the needle. That is to say that the twenty middle stitches of the thirty that were on one needle that were decreased to twelve. You will knit these both backwards and forwards for forty rows. Using another needle, you will now take up on each edge of this plain knitting twenty more stitches to create sixty total stitches altogether.
These stitches must be knitted both backwards and forwards as follows:
No. 1 row: X knit 3 stitches, slip 2 stitches as before, X repeat with the last stitch, taking up one of the 70 stitches next to the 20.
No. 2 row: Slip 2 stitches, only as if you were going to knit plain, purl 3. Repeat and then join on to the 70 at the other end.
No. 3 row: Same as the first in these knit baby booties instructions.
No. 4 row: Same as the No. 2 row.
No. 5 row: This row is purled and then joined at the end.
No. 6 row: This row is knitted and then joined at the end.
No. 7 row: X knit 2 stitches, slip 2, knit 1, X join at the end.
No. 8 row: X purl 1 stitch, slip 2, knit 2, X and then join as before.
No. 9 row: Same as No. 7 row.
No. 10 row: Same as No. 8 row.
No. 11 row: This row is purled.
No. 12 row: This row is a knitted row.
No. 13 row: X knit 1 , slip 2, knit 2 stitches and then X join at the end.
No. 14 row: X purl 2, slip 2 stitches, knit 1, X join.
No. 15 row: Same as row No. 13
No. 16 row: as row No. 14
No. 17 row: This row is purled with a join at the end.
No. 18 row: This row is knitted. The same. Now repeat the previous 18 rows of the knit baby booties pattern.
You will now take up the remaining stitches of the 70, and form the whole into a round for the ankle of the knit baby booties. Purl to complete four rounds.
For the 5th round: X knit 3 stitches, make 1, knit 2 together, X all round. Purl 6 more rounds and then cast off your stitches.
DECORATIVE TASSELS FOR THE KNIT BABY BOOTIES
Plait a length of your wool yarn to make a cord fastening a decorative tassel of pinkand white or blue and white combed out yarn
MAKE A RUCHE FOR YOUR KNIT BABY BOOTIES
With your larger knitting needles, cast on five stitches using the white embroidery wool. Knit and purl the rows alternately while winding the wool yarn six times around two middle fingers of the left hand at every stitch, taking up those threads with the stitches. You will need about ten rows done in this fashion; then for ten more rows you will wind the wool only for the first and last stitches, and the pink for the others of each row. Do enough to go twice round the top of each knit baby bootie. Cut the loops, and comb out the wool yarn to fluff it. You will then sew the ruche around the top of the knit baby bootie.
If you have yarn left, you may wish to use one of our free patterns to knit a baby hat or sweater to match your knit baby booties.
Please visit
Unique Baby Gear Ideas
again soon to find the latest NEW and original knit baby booties patterns and baby nursery ideas that are sure to inspire you to get busy on those knitted and crocheted baby blankets,clothes and bibs.