Cute Hello Kitty Nursery Decor and Decorating Ideas in Themes for Your Baby Girl
On this page we will share some exciting Hello Kitty nursery decorating ideas and show you how you can use current nursery bedding sets and decor to create a unique room for your baby girl.



Visitors Shopping for Hello Kitty Decor Also Enjoyed these Pages:

Baby Girl Nursery Pictures

Baby Girl Nursery Ideas

NEW! Girl Baby Bedding Sets

As you will see this kitten has really broadened her horizons and is now involved in many activities that little girls love. This recent turn of events translates into many excellent decorating possibilities in both color and theme as well as an increased number of decorations at our disposal.



Hello Kitty Butterfly Nursery Theme


Have you ever seen a kitten that had wings? Our favorite kitty cat has emerged as a beautiful butterfly (or angel?) with gossamer wings presenting us with the opportunity of combining elements of the ever popular butterfly nursery with a
Hello Kitty nursery
theme.
And the beauty is that we can use any one of this year's NEW Hello Kitty baby bedding sets for the crib since the colors and style complement each other very nicely.



Hello Kitty Ballerina Nursery Theme

Long before your baby girl is fitted for her very own ballerina costume, she can drift off to dreamland with visions of Hello Kitty all dressed up in a pretty, pink tutu and ballet shoes.
Decorating a Hello Kitty nursery in this theme will be a cinch with some framed pictures of ballerinas. In addition, you might display a pair of toe shoes hung by a satin ribbon and an adorable tutu on the wall as decorations until baby is ready to actually wear them.




Hello Kitty Princess Nursery Theme

Once again, we bring you a twist on one of the best and most popular baby girl nursery themes ever; a Hello Kitty nursery in a princess theme. Your little princess will be delighted with nursery decor that includes a fairy castle complete with turrets and her own personal moat surrounded by flowers, bumble bees and butterflies!
Those are just a few of the Hello Kitty nursery ideas for your consideration. After you choose your favorite nursery bedding set; the possibilities are endless!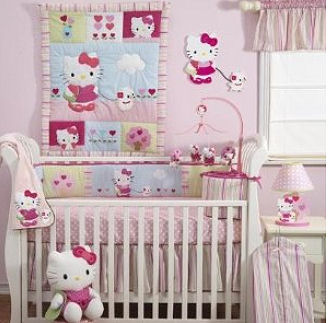 See More Here
Please make plans to visit us again soon to find more Hello Kitty baby nursery decorating ideas and the latest in wall decorations and accessories.
SHARE IDEAS - PICTURES of HELLO KITTY NURSERY DECOR
Do you have a great set of baby bedding or a picture of a nursery that you decorated? Share it!
NURSERY PICTURES, IDEAS and SUGGESTIONS from our FRIENDS
Click below to see contributions from other visitors to this page...

Gorgeous Glam Hello Kitty Baby Diaper Bags; Things for Mom

Unique Baby Gear Ideas usually offers advice to new parents decorating a nursery but today Hello Kitty diaper bags and things for mom are the topic of …
Hello Kitty Theme Nursery

The inspiration for my Hello Kitty theme nursery was the love of Asian culture. However I didn't want my baby girl's room to be too mature or dark. …